THE CONNECTMYAPPS CANVAS PLATFORM
Automate your core processes and help your business run more efficiently using our powerful ConnectMyApps Canvas integration platform and our deep integration expertise.
Drag. Drop. Deploy. Done!
The ConnectMyApps Canvas low-code integration platform makes developing and managing integrations simple, with intuitive tools and features for customers and partners.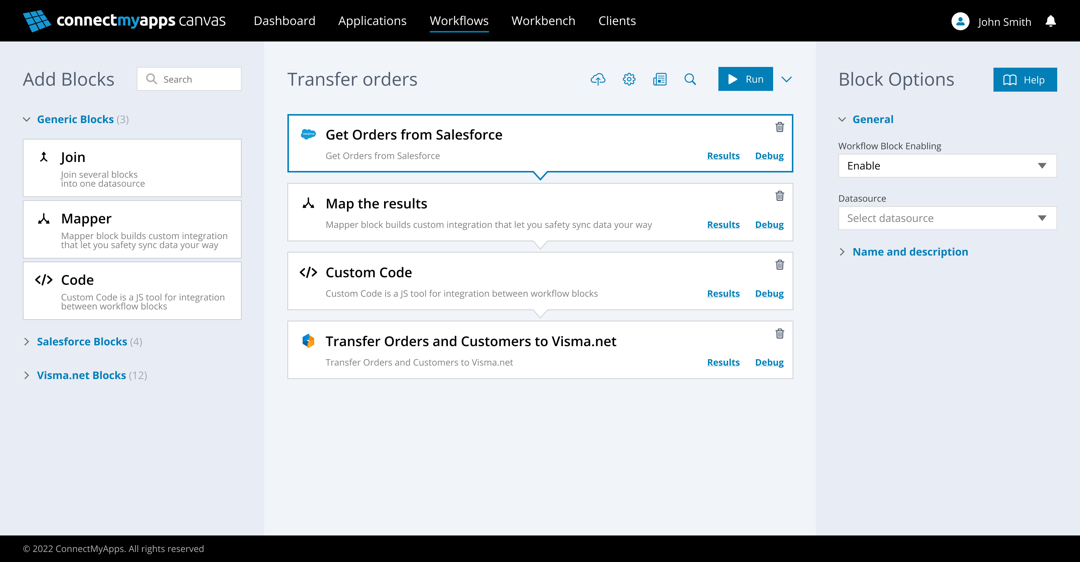 Visual drag and drop workflow builder
Build and prototype integrations quickly in the visual workflow builder. Simply drag and drop the functional blocks needed onto the Canvas workspace.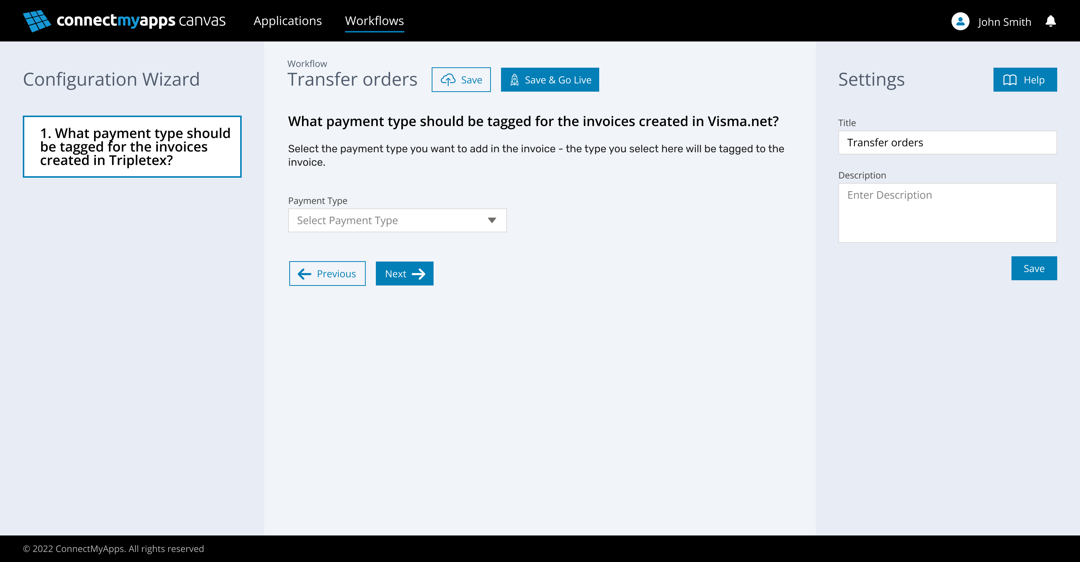 Create template workflows in a few clicks
Build template workflows for common integrations which can be customized for individual customers as needed.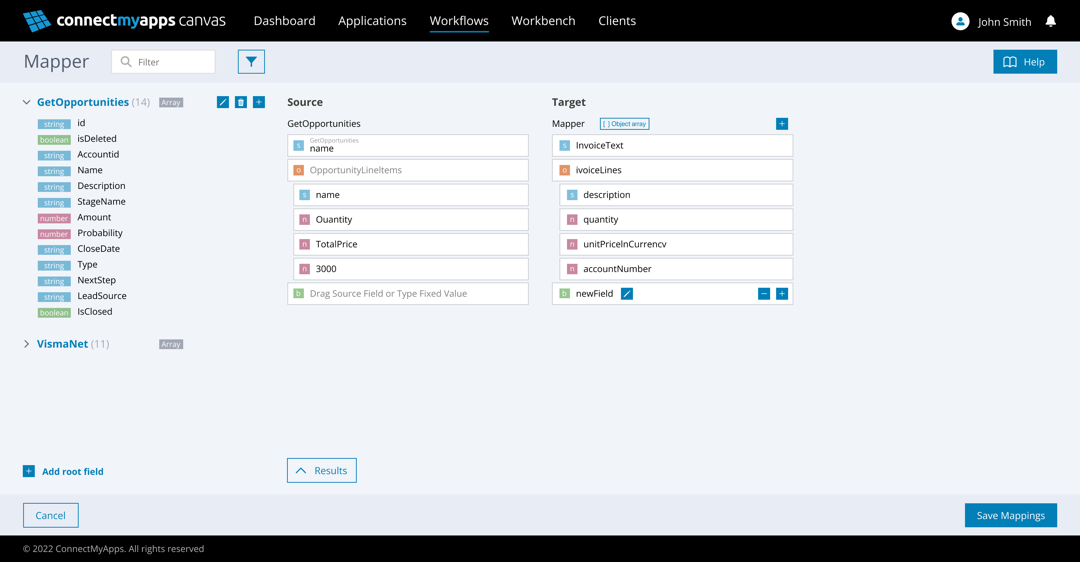 Advanced visual field mapping tool
Map fields from the source to target application using our intuitive visual mapping tool, with fields read dynamically from each application.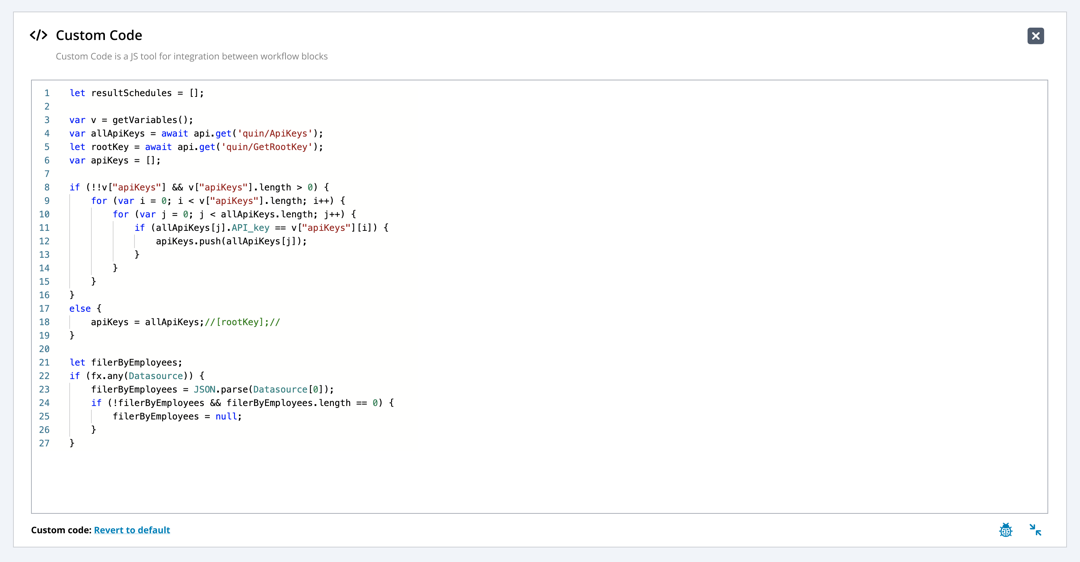 Inject your own custom code
Customize integrations by writing and injecting your own code in Canvas directly in the browser using the latest version of JS.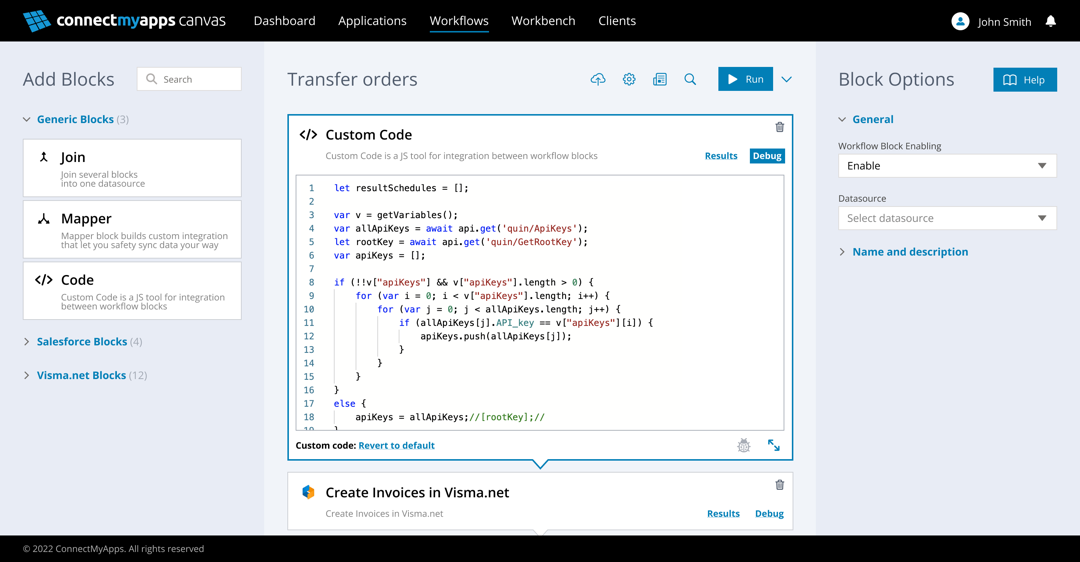 Extensive debugging options
Debug your code directly from the Canvas environment or step through the code using the debugger in any modern browser.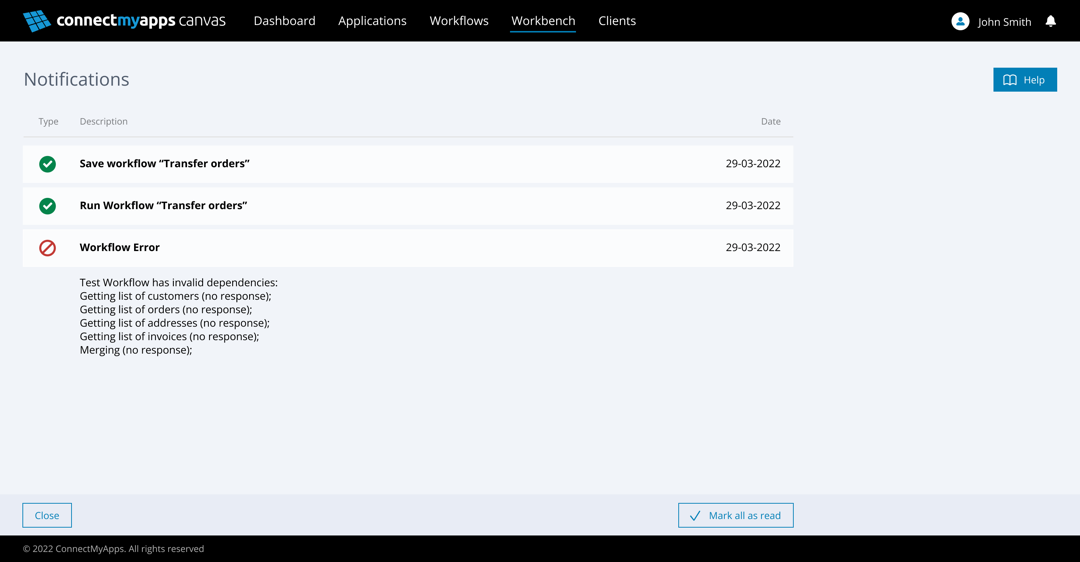 Automatic notifications of workflow errors
Receive notifications of system messages and failed workflows via email so you are alerted to problems in real time.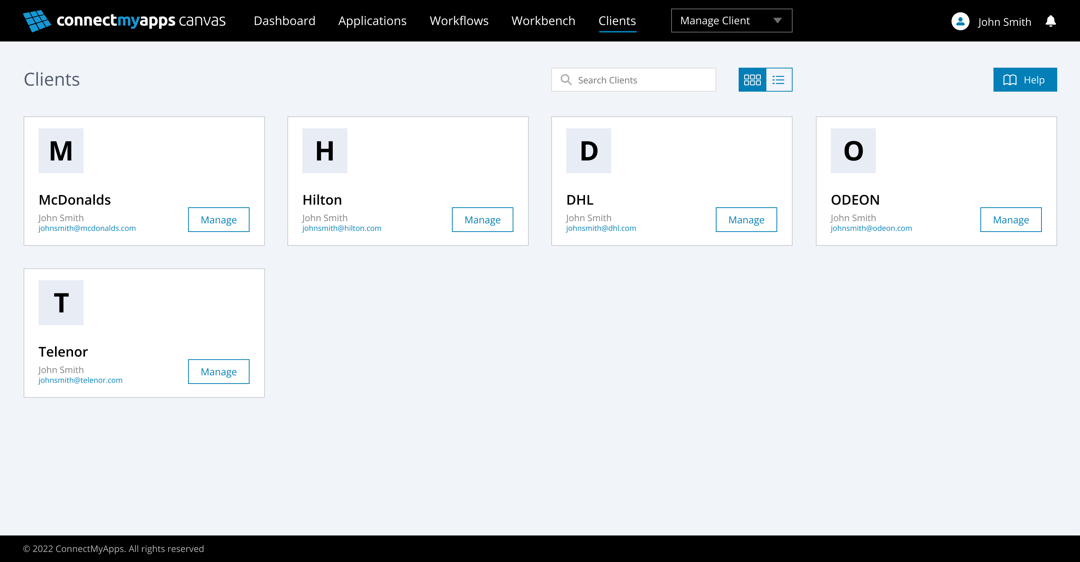 Easy client management tools
Canvas Partners can easily filter and search for individual client accounts to manage their integrations with one click.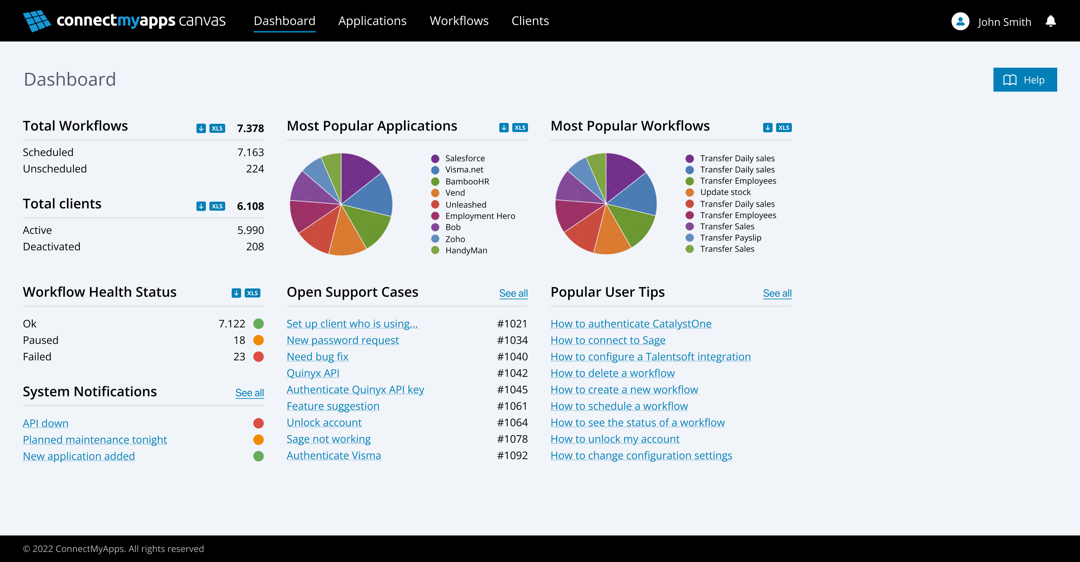 Get a full overview from the dashboard
Get system notifications and see the status of your workflows in real-time on the dashboard. Partners can see a full overview of all client workflows.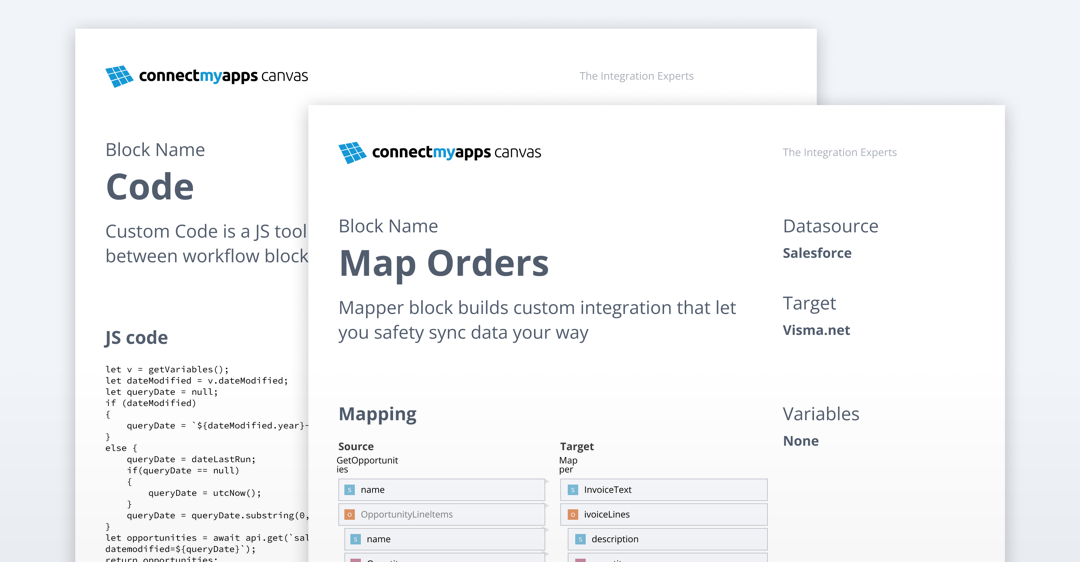 Automatic documentation at your fingertips
Output documentation of your integrations with one click, including field mappings and any custom code for your technical team.
Choose from hundreds of apps
We connect hundreds of applications across ERP, CRM, HR, Ecommerce and more, with new applications added every week for our clients.
Template integrations
Create simple workflows with a few clicks using our range of standardized templates between popular accounting and ecommerce applications.
Fully customized integrations
Run fully customized, enterprise scale integrations tailored to your unique business processes using our powerful and flexible integration platform.
On-premises or in the cloud
Connect your core business applications whether they are running in the cloud or legacy on-premises systems with our proprietary CloudConnector plugin.
Manage your integrations
Get full visibility over the status of your integrations, with options to change configurations as needed, so no more black-box integrations.
Deep integration expertise
Take advantage of our deep expertise in scoping, developing and maintaining complex integrations that seamlessly fit your processes.
Support and Maintenance
Ensure you have help at hand when you need it. We provide support and maintenance of our integrations as part of our service.
Security and infrastructure
Our proven platform is built to support enterprise scale integrations, efficiently and resiliently, with industry standard security measures throughout.